May 7, 2019
To our Customers and Neighbors:
You may have seen the news that we experienced a fire overnight on Saturday, May 5, 2019 that destroyed 6 of our 11 fuel oil delivery trucks and two garages adjacent to our main building. The fire was reported around 12:30 am, and was contained within an hour and a half thanks to first responders from the East Lyme, Flanders, Old Lyme, Old Saybrook, and several Waterford fire departments, as well as the Waterford Ambulance and East Lyme Police Departments. The cause of the fire is still being investigated.
Although much was lost, more was saved. Thanks to the rapid response of so many area firefighters and emergency personnel, our main building that houses our administrative offices and the rest of our oil delivery trucks, service vans and wreckers were saved. As a result, we were able to resume business on a limited basis on Monday, May 6, so we could take care of the many area individuals, families and businesses that rely on us. I am so proud of our team – they worked tirelessly to get things back up and running. We have more to do, but we were heartened to see the first oil truck head out for deliveries Monday morning.
We sincerely appreciate all of the emergency personnel who saved our remaining building and equipment – they were true heroes. We also appreciate the kind words of encouragement we've already received from so many of you, as well as the other business owners in the area. I also want to say thank you to all of our competitors who called to offer extra trucks, office space and assistance of all kinds.
It means a lot to all of us as we continue the process of restoring our operation to full capacity.
Sincerely,
Richard B. Gada, Sr.
President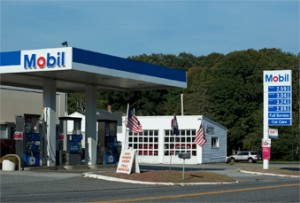 Our Mobil gas station offers full service, all grades of fuel, diesel, clear kero, and propane cylinders filled.
We are the premier provider of fuel oil, garage, and towing service for the Niantic / East Lyme area. We also serve Stonington, Mystic, Groton, New London, Waterford, East Lyme, Old Lyme, Salem, Old Saybrook, and Essex. Our services include: